Our second day in London got off to a slow start. Normally I am the one who sleeps late and generally is slow to get moving in the mornings. (I also stay up later, since I enjoy the quiet when everybody else goes to bed) Well that got flip around with our trip over. Both Rosie and Isaac took long naps when we got to the flat on Monday, so their bodies were still on Seattle time. (I stayed awake until it was 9PM and then crashed) As a result, I was up at 7AM and everybody else was still asleep. Poor Isaac slept until 10AM and only got up then because we woke him up. (He did sleep for 12 hours)
After getting everybody dressed and ready, we went in search for food. We missed breakfast at the local restaurant, since they stop serving at 10am, so I just asked Google. Got a recommendation for a place on the way to the Victoria tube station. Rosie and I thought it was amazing, Isaac wasn't so sure since they put cream cheese on his French toast.
After breakfast, we made out way to the Victoria Underground and did the normal tourist thing of getting confused trying to buy passes. We eventually just gave up and went to the visitor window and asked the nice lady to help us. I had installed an app on my phone which told us which train to get on, but this turned out to not be sufficient.
I got us on the right line, but in the wrong direction. When I realized it, we got off and I proceeded to get us on another line, also in the wrong direction. (The damn signs are ass backwards if you ask me) We eventually got going in the right direction, but wasted about an hour.
We eventually popped out at Tower Hill and made our way to the Tower of London. This was one of the places we all wanted to see and it was pretty cool. We did the tour first, which are directed by Yeoman of the Tower. (All E6 or higher retired UK service men) Ours was very funny and we all learned stuff. After the tour we went to the display on the mint, which I had read quite a bit about during my reading about Sir Isaac Newton.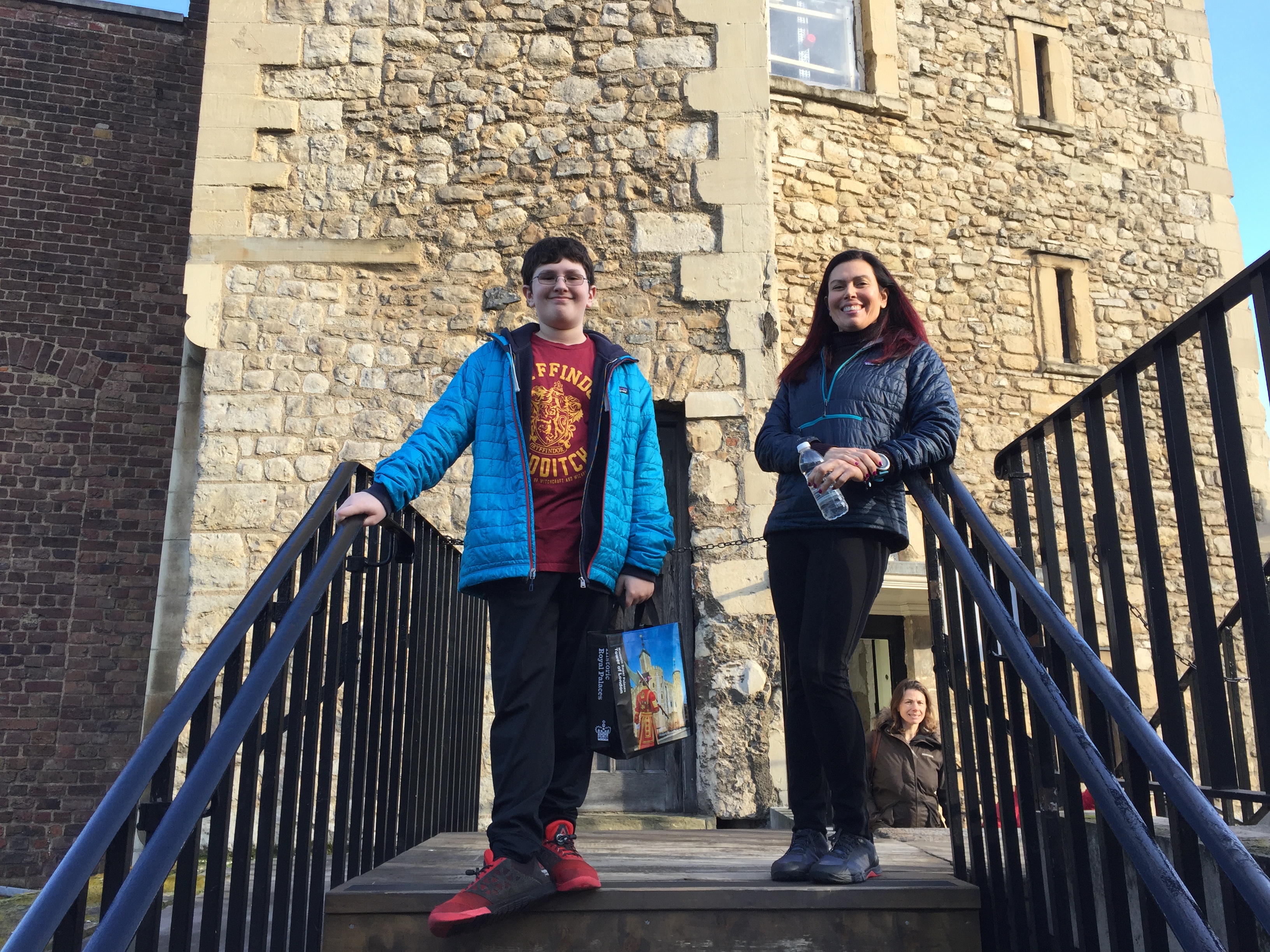 We then did a tour of the Royal Jewels, which was actually less interesting than I expected. Eventually we made it over to one of the walls and got into one of the turrets. At this point we were getting tired and hungry.
We stopped at a stand to get fish and chips, after paying 50p to use the only bathroom we'd seen all day. The fish and chips were OK, but I miss tarter sauce. At this point we wondered down to the water front and got our first real good view of the Tower Bridge,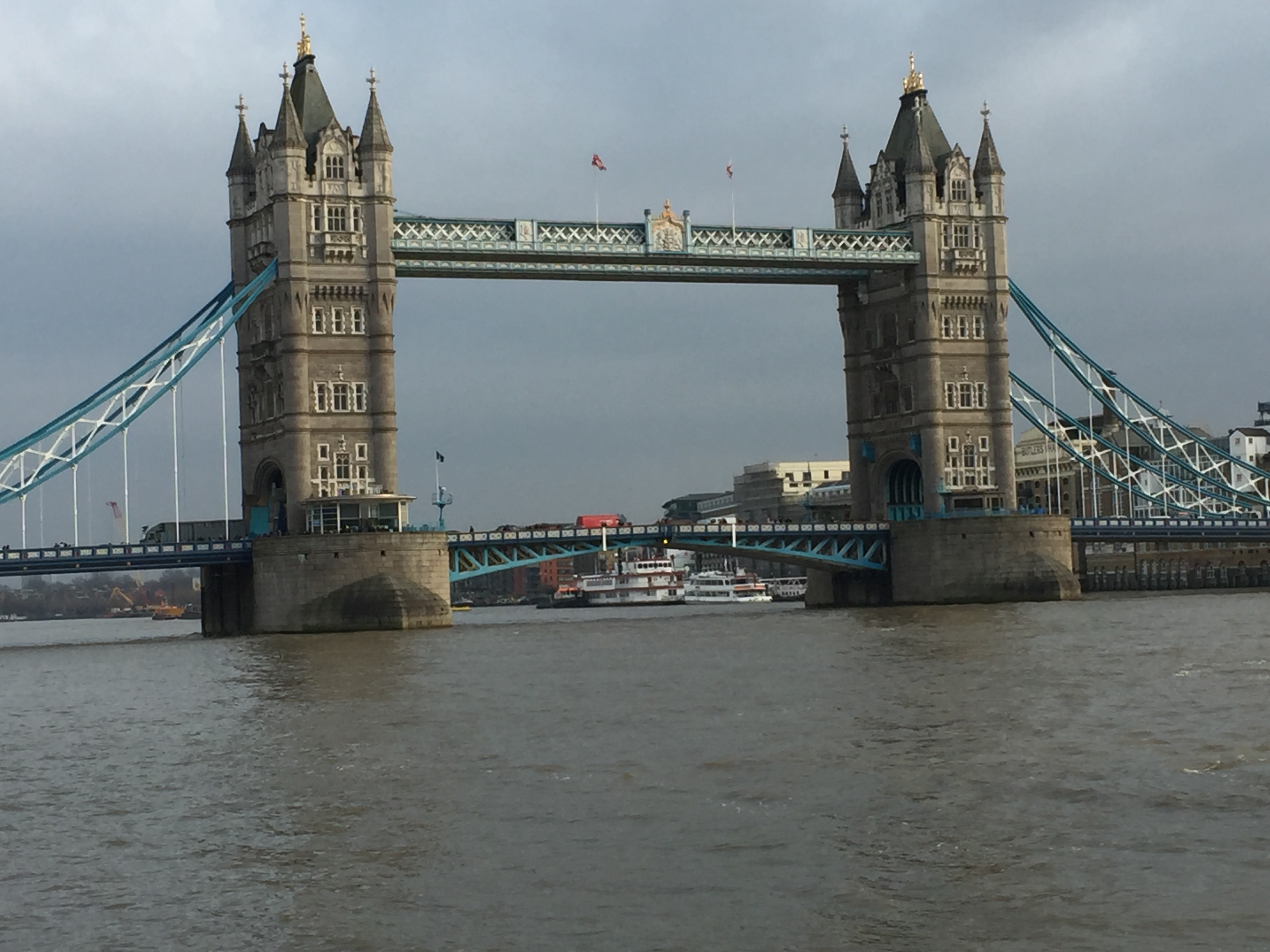 which I learned was not the London Tower Bridge, because just up stream is the actual London Bridge. This is just called the Tower bridge.
At this point we headed back to the tube station and made our way back to the flat. We stopped at a grocery store on the walk back and got curry for dinner. We were all pretty tired and went to bed early after dinner. Rosie was suppose to get up to take a Crossfit class, but as I mentioned, they are all still not adjusted to the time zone yet. I am again the first one up. (Enjoying my English tea!)
Random things about London.
The age of buildings is really hard to growk until you wonder around a while. There are lots of row houses (I think that is the right term), which appear to be residential, but in fact were all hotels.
Once we got closer to the Victoria tune station, more modern buildings started showing up and so did the construction. There were several times today when I could see a place, but had to really work at getting there because it would be all blocked off.
The other thing which really stood out is the number of languages being spoken. I heard French and Italian nearly as often as English yesterday. There were several times that something like English was spoken to me and I had NO clue what they were saying. I helped a couple who were speaking Italian navigate the 50p bathrooms, since they understood me better than the attendant who was speaking one of these English like languages.
Then there was just the crazy stuff, like a Ferrari parked on the street.