I posted this on Google Plus a couple weeks ago, but decided to repost it here.  I'll eventually do a full write up of the final configuration, but this is a nice little update.
Just finished the basic tests of the D-Star node adapter, installed on the actual linux computer that will run the repeater. I finally came up with a way to mount it inside the computer case and 'made' the mounting bracket yesterday. Just got the NATools working and confirmed it is decoding and transmitting.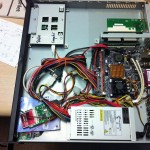 The node adapter mount turned out better then the CF card mount I made. I decided to go CF card HD after seeing John-K7VE's setup. I still need to route the radio interface out to the back of the computer, right now the lid is open an inch to allow the cable to exit. But Jeremy-NH6Z sent me some chassis mount connectors that will solve that problem.
Oh yea, the node adapter is mounted under the drive sled, you can just see the USB plug at the end. When I realized there was enough room UNDER the slid, it wasn't hard to add a couple extra holes. The CF card reader is velcro'ed to the hand-made mount, which was made out of the CF reader package. Re-use man!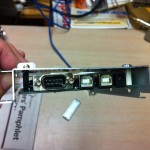 You can just see how the card was mounted with the spacer in the middle right of the picture.  The nice side effect is the PC case now puts off this pretty blue color from the node adaptor power LED.