So with a newly wired house, running through my new GigE switch, I needed to focus on building some kind of computer rack. I had lots of options, from buying a rack used, to getting one of those musician portable rack cases. After lots of Googling, I finally decided to go with building one myself out of 2×4's. I know it won't 'look' as nice, but it will also allow me to build it to fit the exact spot and expected need. I started with this guys plans and started adapting to my space.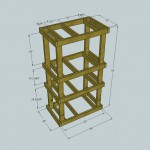 Mr. Duke's plans were for a full height rack, which I believe lives in his garage. I decided to build one half as tall and just put it on top of the existing cabinets in the laundry room. I am planning on 'hiding' stuff in the lower cabinets, like the UPS system and then I wouldn't need to-do quite so much demolition work. I still ended up removing one set of cabinets which were mounted on the wall. After pulling them down, I get the impression these were left overs from another remodel.
I spent quite a bit of time designing the rack, so I could make sure it would fit everything. I had originally believed there would be LOTS of extra space, but in the end there is just enough with a little bit extra for future growth. I can't seem to find the plans I made, I would like to scan them. I made one small post design change, which was shorting the width of the rack by about 1.5 inches. I don't know why Mr. Duke made his so wide, but it wasn't needed to hold a 19′ computer case and it fit my space better.
I did several test fits before assembling the whole thing, but only seemed to capture one of them. Y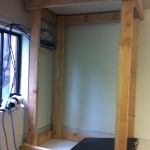 ou can see the D-Star repeater computer acting as a test model. Since finishing the rack, I've been asked several questions that I'll address right now. The cabinet isn't the only thing holding the rack in there. I've attached several braces to the wall studs along the wall and screwed the rack to them. I have also added 'braces' under the cabinet. I can climb up there without it even flexing now.
The second question that has come up is about dust, since the cloths dryer is right there. This was something I worried about, but found a simple solution for when digging around the garage. We had bought a air purifier when Isaac was real little and never used. I just stuck it on the top shelf and let it run all the time. It is noisy, which is why we never used it originally, but it does a great job keeping the air dust down. I'm thinking of installing one in my office actually.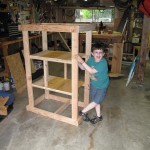 So with the test fits done, I was able to finish construction of the rack. My helper actually did quite a bit of assembly, he really likes using the cordless drill. The general layout of the rack is pretty simple. The bottom section will hold 8U's worth of computers. Right now my main server is a HUGE 4U case and sits on the bottom, the D-Star repeater is a 2U and sits on the main server. I have room for one more 2U case, which will probably be filled with a XEN host in the future. (EDITOR NOTE: I've decided to replace the 2U computer with a smaller 1U, running off a 32G CF card. The 2U will get turned into my XEN host system)
I should point out that the choice of colors and actually most of the painting was handled by my assistant. The raw boards look was going to get old, so I was going to slap a coat of black or dull brown on it. But Isaac found some cans of blue left over from a bathroom paint job and the red is left over from our living room.
Above the computers is a shelf and it is mainly to hold the monitor, keyboard and random other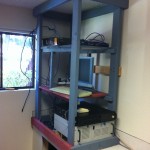 things which take up space. Right now I have a old P3 desktop sitting in there, which is running my DVAP. Ultimately that will move over to the D-Star computer, but I needed to move it when everything else moved out of the shack and I like having the DVAP running. (EDITOR NOTE: I have since moved the DVAP over to the 2U computer and pulled the old P3 out of the rack completely)
The space where the P3 desktop is right now is actually the space I set aside for the cable-modem and router. I haven't gotten around to moving them yet, they are still sitting under the workbench in the shack.
Above the main shelf is a second shelf, which right now has the GigE switch and will ultimately have the repeater radio. If I decide to expand beyond the DVAP and add 2m node, all of those pieces will go up there.
You might have noticed the dead space behind the computers on the bottom. I didn't originally have a good plan for it, but obviously it is required to have enough space on the other levels. I have since found it very useful, makes getting to the back of the computers super easy for hooking them up. I also haven't finished all the power distribution work needed. I have a power strip screwed to the back brace right now, but ultimately I'll move my super UPS to the system. (EDITOR NOTE: Due to a lost of power and having to 'fix' some bad HD activity, the super UPS is now installed.)
I have been REALLY happy with how this project has turned out so far. It is amazing how noisy all this stuff is and now its out of my office/shack, I can't believe I didn't do this sooner. While our summer hasn't been all that warm, I've had none of the heat problems of years past. I know getting everything out of the closet, so it has real air circulation has really helped. I have since switched gears and moved back to the actual driver for this project, which is getting the D-Star repeater built. I picked up a new antenna for it at HRO on our trip to Oregon and will get it installed on the tower soon. (before the rain comes) I dug out all the components last week and hopefully this weekend will get the interface cable built.
NOTE: I started writing this post almost two months ago. In that time I've made good progress, which will be the wrote up in a future post.