(NOTE: I just found this post in my drafts folder, no idea why I didn't publish it. So I'm doing it now, this was originally wrote right after I returned from the Dayton Hamvention in May 2011)
This was the year that I went to the Dayton Hamvention as a civilian.  The whole Dayton experience is so different from when I worked the Icom booth, it is really like two different events.  On the plus side, going with Icom means having everything paid for (I'm thinking $1.2k if you include mad money) and the obvious bonus of getting to be a 'vendor'.  The vendor thing opens many doors for you and being one of the biggest (if not the biggest) vendor is slick. But the down side is that you really don't get to fully experience the whole show, since your kind of stuck in the middle for the whole day.
In years past, I would get to 'run' through the flea market and maybe see 1/2 of it.  There had to be something really significant for me to slow down and look at it.  As I discovered this year, it really takes closer to 3-4 hours to cover the flea market.  Jeremy (NH6Z) and I walked the entire thing on Saturday morning, we stopped at any stall which had old networking gear, Tek test equipment or anything repeater like. (Plus one vintage radio display where I really wanted to buy the Drake 2B receiver)  Obviously we were stopping quite a bit and it was a hoot.  I should have taken one more swing through to catch anything I missed and to pick up the 1/2 inch hardline N connectors I saw, but I was ready to get out of the sun.
The other thing which really made a difference for me was getting to attend some of the forum talks.  I went to the D-Star forum, which I've never been able to in the past. (Scott-N7SS always went and someone had to cover for him)  I should have went to the TAPR forum, but I managed to over sleep on Friday, so I missed it.  I also went to most of the contesting forum, which was really interesting.  They had a great talk on PJ2T contesting station which I will have to look into more.  I don't know if I have the time to join, but I thought it looked really cool.
I learned a long time ago that the big dinners are just not my thing.(The DX dinner and Contesting dinner being the biggest)  I missed going to the D-Star pizza feed, since my plane came in late on Thursday.  I did get to attend the roadkill roast that the TAPR board puts on Saturday night and I really enjoy it. (Thanks Tom-N8ZM for hosting it and Jeremy-NH6Z for the invite)  Instead of the big formal dinners, I sort of 'arranged' a Pacific NorthWest Geek BBQ Dinner (PNWGBBQD?) on Friday night.  We went out after the D-Star thing that Icom and the Georgia D-Star group put on at Drury hotel. (K7VE, N7SS, KK7DS & NH6Z)  Must say this was certainly the most interesting and fun evening out of the trip for me. (thanks guys!)
So here are the three most interesting things I saw at Dayton and some random pictures which still amaze me.
Elecraft KX3 – This is really new, I don't think their website even has info on it yet. Not sure how to describe it, because it is clearly designed to solve a couple different problems. My best description is a KX1 built on top of a K3, but with many/most? of the features of a K3.
Solved Scott-N7SS M2 rotor problem – This is probably the ultimate geeky and a personal thing, but I've been hunting all over the internet to find the wiring diagram for the M2 2800 rotor for Scott.(http://www.m2inc.com/products/rotors/or28002.html)  He has one of these, but had zero docs and there is little info available on the net about it.  On Saturday morning I entered via side door and got straight into the hall where the M2 booth is located.  One of the people working the M2 booth had a very deep knowledge of these rotors and was able to tell me what colors they have used for the two sets of control wires. (AC voltage for turning the rotor and DC to flip the reed switches)  With this info and the pictures I took, I think we can finally get Scott's working.  Then he'll be out of excuses and will have to finally get his tower in the air. :-)
Talked with Mark Philips about the DV-Node adaptor I ordered – for those that have been following along with my quest to build a homebrew D-Star repeater, you know that I've been waiting a LONG TIME for the last piece.  I ordered a node adaptor from Mark back in Nov 2010 and am still waiting for it.(http://www.gmskhotspot.com/)  He has had supply problems and recently has even stopped responding to e-mail. (If you think I'm frustrated,  you should look around the net!)  I actually put a order in for one of the Dutch boards, which became available again a couple weeks ago and at this point still believe it will get here before the one I ordered from Mark.  But anyhow, Mark was in the flea market and took my info.  He says it has either been shipped (but I've never received it) or is in the current batch which have been waiting on a part, which is now sitting at his house.  I just hope to eventually get it before the summer is over…..
EDITOR NOTE: About two weeks after Dayton, I received a board from Mark. It would enumerate to the computer, but won't decode anything. Thinking of just tossing it and washing my hands of him. 
I also got some pictures of the amazing tower system they bring in to Dayton, this year they painted it red and white.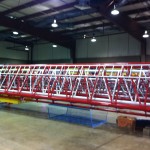 I think I found a mobile antenna solution for the truck, which will play nice with the parking garage and not mess up the paint on the top.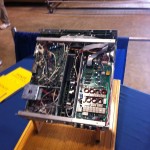 There is this company (DZ Company) trying to get into the radio kit business, it will be interesting to see where this goes in the next year.
I also got to watch one of the AMSat demo's and ran into Diana Eng, who makes all the cool ham radio videos for Make magazine.
One of the FUD things talked about at the show was from Robin-AA4RC of DVDongle fame. Robin was discussing the idea of being able to access a DV-Dongle using a Android tablet or eventually an iPad.  Robin-AA4RC talked about it, but didn't actually demo anything.  I spoke to him about it briefly and he is going down the road of making the DV-Dongle available remotely, which means both the iPad and just about any other computer will be able to access a dongle over the network.  If you can remote it, there is no reason why you couldn't use a dv-dongle to get a homebrew repeater on the d-plus network, without belong to the US-Trust system.
I should mention that Icom was showing several new radios which were pretty interesting.  The long due replacement for the IC-746 was out in the IC-7400(http://www.icomamerica.com/en/products/amateur/hf/7410/default.aspx), the IC-9100 (http://www.icomamerica.com/en/products/amateur/satellite/9100/default.aspx) was finally available for hands on playing and actually purchase.  They also had a new booth layout, which I liked better. (No raised counter, so you weren't looking down on the visitors)  The only down side I heard was that also meant no chairs.  It is HARD to stand on  your feet for 8 hours on that concrete.  I didn't have todo it this year and I still had sore feet each day.