So I had a great plan for Field Day this year. I was going to skip the MicroHAMS event and instead go camping with the family. We did this two years ago and it was a lot of fun. We found this site called Tronsen Ridge, which is the start for a semi-popular hike/mountain bike trail. In past years, we normally saw at most one other person up there. Because of the crazy winter, it was a like the parking lot of Target. (well, maybe not that bad) Anyhow I had done lots of prep for this year, I was upgrading the antennas and going to use my dual 40m / 80m dipoles and a simple 1/4 wave vertical for 20m.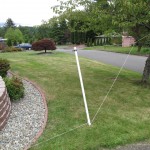 I had to rebuild my 40m/80m dual dipole, which required finding a place that 1/2 a 80m dipole would fit and re-attaching the two elements. (Using rope this time and not plastic covered wire)
A couple weeks before Field Day, we took a family trip to check out the site. There is a couple camping sites just pass the park spots at the trail head. There are plenty of tall trees for wire antennas and some really pretty views. The site is at about 4200 feet, which is pretty high.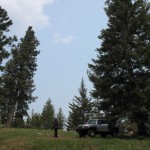 The road up to the site isn't great, it pretty much requires a 4×4 to make it all the way. (mainly for the ground clearance, rather then any mud) I pull a little trailer to get the generator and camping supplies up.
So we take off on Friday afternoon around 2pm and make it to the site well before dinner time. We had the tent up and a fire going. We made a pretty simple dinner, just re-hydrated camping stuff and a grilled cheese sandwich for Isaac. The plan was to go to bed early and get started early. I had enough time that first night to get the generator setup and assembled the table for operating. I didn't pull the radio or computer out, since that is pretty quick to-do and it means I didn't have to leave it out. I also skipped trying to get any antennas up, since the wind kicks up in the evening.
So this is a long build up to what turned out to be a horrible evening. As I said, the wind picks up at night and since we are on the top of the ridge, its is really windy. It also started getting cold, really cold. As soon as the sun went down, the temp dropped big time. The one thing we really didn't prepare for was sub-freezing temperatures, which in hindsight was kind of stupid. So the good news is that Rosie and Isaac shared the good sleeping bags and with enough extra cloths on, Isaac slept through the night without to much of a problem. On the other hand, Rosie and I got very little sleep. I don't think I actually slept much until the next morning when the sun came up. At that point, Rosie and Isaac got up to make a fire, so I got their extra sleeping bag.
So while lying there not sleeping, I pretty much decided that we weren't going to stay a second night. That meant we needed to be off the mountain by dark, which means everything has to be packed about 45 minutes before dark and that means I need to start packing by 5pm.  Figure an hour in there to eat dinner and I'm basically going to start packing about the time I get started.  It just wasn't worth setting everything up, operate for a couple hours and then tear it all down again.
So the next morning after getting a couple hours sleep and cooking breakfast, we started packing everything back up. This really sucked, since we all were really looking forward to the weekend. We got off the ridge about lunch time and stopped at a camp ground to see Mark-N7WSU.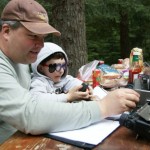 Mark was originally going to drive up and operate with us for the day, but we called him on the radio that morning cancel.  Mark in true ham radio spirit had stuck a 20m dipole up at his camp spot instead and was just going to play radio there.  We ended up cooking lunch with Mark, Baby Cate and Jason, I then helped him get his dipole up in a tree. (it originally was about 8 feet off the ground)  So after lunch Isaac and I got on the radio for a little bit. I think Isaac is going to get into ham radio, he loves tuning the radio and talking into the mic.
So did I make any contacts for Field Day?  I actually did once we got home and unpacked. (meaning it was Sunday)  In the last hour or so of the contest, I managed to work 40-50 QSO's on 20m. Most were voice, but I made quite a few PSK31 contacts as well. It wasn't as much fun, but at least I got in there a little.  Next year we will try again, maybe at a little lower elevation. Or maybe we'll just buy some better sleeping bags, or maybe both?